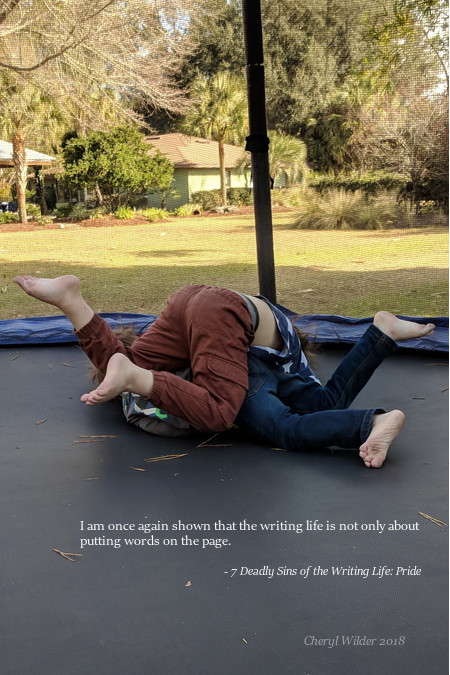 To help my four-year-old boys' learn how to make a resolution, I purchased, "Squirrel's New Year's Resolution," by Pat Miller. The core message is summed up when Bear, the librarian at Lonewood Library, explains a New Year's Resolution to Squirrel. "A resolution is a promise you make to yourself to be better or to help others," he says. "When we begin a new year we make a fresh start." This year, the boys have resolved to carry groceries into the house. A solid first resolution.
In 2018, I will transition from being a stay-at-home-mom working part-time to a mother of school-aged children working…well, that is what I get to figure out. It's not the first time I have realigned my goals with the entry of a child into school. My eldest is now twenty. Fifteen years ago, as he went into kindergarten, I attended classes at the community college, putting myself on a direct path toward what I dreamed of doing as work: writing.
Since then, I have received undergraduate and graduate degrees, published a poetry chapbook, as well as, several poems, essays and articles in various journals. All of this work was accomplished first as a single mother, then during the recession when my family (my eldest son and new husband) had to relocate for income, the birth and rearing of twin boys, and the care giving of my mother before her death in 2016.
I've also reconnected with family members, bonded new friendships, established a balanced diet and exercise routine, started a web development business, exorcised personal demons, became more engaged in my community, bought a house, and reared a child out of the nest and onto the path of his own artistic pursuits. For the past eleven years, I've enjoyed ever-strengthening, never-a-dull-moment, love and support between my husband and me.
What's next?
2018 New Year's Resolution
This year I resolve to write a personal and professional mission statement to define who I am, who I want to be, and what I want to accomplish. And then, I live up to that mission.
Learning From My Previous Self
Developing a mission statement and business plan is not altogether new. Five years ago, two writer friends, Claire Guyton and Suzanne Farrell Smith, and I, decided to compose our own Writing Life Business Plans. Each following year we reevaluate and refine our goals.
The deep thinking involved, in creating and revising my plan, kept me connected to writing when two babies took all my brain power and energy. Not to say I hadn't previously maintained tenacity toward my writing goals during busy times. But nothing kept me more focused (except the community of Claire and Suzanne) then taking the time to figure out where I was as a writer, where I wanted to go, and what I needed to do to get there.
Now I'm on the precipice of the boys' enrollment in school. Not only will I have more time, I have five years of meticulous preparation under my belt.
My resolution is a natural extension of the Writing Life Business Plan. I don't bring in enough income from my writing life (yet) to justify not having a second career. Luckily I enjoy web design, so the new mission includes my entrepreneurial pursuits as well. Work I hope to integrate more with my writing goals, creating something altogether new and unexpected.
My plan also addresses what kind of citizen I want to be in my community. Where are my talents and skills needed most?
The personal mission statement? It asks me to look closely at my moral foundation–the precursor to all of it.
Work More and Better
From my first blog post back in 2014: "I resolve to continue integrating my work with my art and my everyday life… I vow to do this year after year after year, turning my lifetime into a series of fulfilling days."
My days are more integrated, and have become more fulfilling. But I'm not finished. Quite the contrary. 2018 is another year where I begin again, and one of the giants' shoulders I stand on this time, are my own.
---
Quote and photo by author. All rights reserved.
---