I found myself thinking about these poems long after reading them.

– Mark Cox
---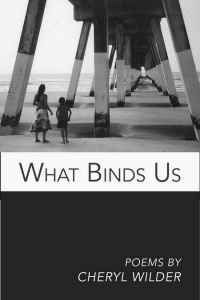 ISBN 978-1-63534-201-7
$13.99
Finishing Line Press
May 2017
Media Contact: Leah Maines, Editor
(859) 514-8966
LeahMaines@aol.com
www.finishinglinepress.com


Distributed through Ingram Content Group
Download a press release for What Binds Us
What Binds Us
Within the first lines of What Binds Us, both the frailty and necessity of human connection is exposed. Unspoken pains lie at the heart of a family's dynamic. Wilder pushes beyond her family's silence in order to understand the point where relationships break down. We first see this demonstrated by the strained relationship between her mother and grandmother.
For Wilder, the lessons aren't easily learned. After a failed marriage and still in her twenties, it's in caring for her son where she begins to see the intertwining roles of mother, daughter, wife, and individual woman. Here, Wilder begins to build her own family foundation. When she finds new love, he adds support and structure to the life she has built for her and her son.
What Binds Us is about family, combing through the intricacies of how we bind to people, place and ultimately, ourselves.
---
Reviews
"What Binds Us? Relationships and their attending complexities—the ugliness that goes with love, the pain that inhabits families, the fear that keeps us apart or perhaps together. Wilder draws small moments into beautiful, sometimes bittersweet, images. Her slender chapbook holds 20 poems that stand on their own, but together flow like a complete narrative. I've read the volume three or four times already, each time finding something new. Subtle but accessible. Nicely done."
"Beautiful, heartfelt and real."
From the Cover
"What Binds Us is love, as it turns out, and even if it has that Shakespearean smell of mortality, it also has the wafting fragrance of flowers that give us a "reassurance of forever." In this powerful, heart rendering book, we trace a couple of generations of binding love and honest, mature understanding of its costs as well as its rewards. A husband leaves, a lover appears, and all the while parents, grandparents and especially a son offer solace. This is a poet that knows how even as we go forward it is to leave something behind as well as gather it: 'The ground is smooth as I cross the bridge / stopping to listen for the water's surface, the way / it pushes around the rocks, always moving toward / something, but also moving away from where it's been.' If you want a poetry of the reality that faces our real, everyday world in a realistic and loving way, then this is for you."
–Richard Jackson, author of The Dismantling of Time in Contemporary American Poetry (Agee Prize)
"What Binds Us is a beautifully wrought collection. Wilder writes of relationships, familial roots and inherited behaviors with a keen eye for detail and a subtle, unassuming music. Her poems are delivered with great tenderness, yet they resonate in deeply powerful ways. I found myself thinking about these poems long after reading them."
–Mark Cox, author of Sorrow Bread: New and Selected Poems 1948-2015